The rooms are also suitable for the working person who needs to depart early, some bedrooms are self-contained with a microwave and fridge, which is again ideal for someone working locally looking to come and go as they wish and can be let on a room only basis.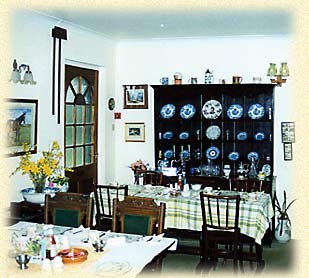 Guests can enjoy the Guest Lounge overlooking the patio and garden area.
This is an ideal location for the businessman/woman to relax and enjoy our hospitality in the Warwickshire countryside.
-Many, many thanks for a very comfortable,extremely hospitable and caring stay. Efficient & tasty Breakfasts, & we lacked nothing, which with five children under 7yrs and six adults is saying something. Thank you again.
Beattie Family, Manchester
A lovely place, very friendly. We've had a lovely time. Thank you.
David & Marie Willings, Suffolk
Very comfortable bed, excellent breakfasts. Great.
Peter Harwood, Peterborough
Wonderful as always, Many thanks.
Meurig & Gwenan Dodd, Denbigh
Great Farm, beautiful area. Would come again. Thanks
Jean Sylvester, Texas USA
Lovely, quiet surroundings. Great farm, thanks
Liz Kennedy, New Zealand
Lovely early morning walks spotting the wild-life.
Beverley Barlow, Colne
We liked the dogs, horses & breakfasts.
Martin, Debbie, Ben & Lucy, York
Very friendly, hospitable & caring.
Averill & Ken Shepherd
Lovely village, thanks for the hospitability
Sonia Bailey, London
Very relaxing. Lovely to be able to walk around the farm
Rachel Bailey, New Zealand
Thanks so much for your fine accommodations.
Guy Stone, USA
Good, clean accommodation. Very nice. Excellent stay.
Kate & Bob, Essex
Great time, lovely to see lambs being born, felt very at home. Lovely breakfasts.
Rebecca Ramsey, Cardiff
Lovely stay, great hosts, relaxing surroundings. Thank you.
Trevor & Maria, Middlesex